History
Each NOACK ORGAN is an individual entity, designed and built for the specific needs of its own setting. And yet, all Noack organs are the result of our commitment to superb quality in concept, design and workmanship. We believe it to be our task to use our clients' resources efficiently, to the end of creating beautiful and lasting instruments that serve their owners' needs and traditions well.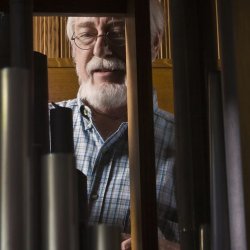 Fritz Noack (1935-2021) apprenticed from 1954-58 with Rudolf von Beckerath in Hamburg, Germany, and worked with Klaus Becker, Ahrend & Brunzema and Charles Fisk prior to founding The Noack Organ Company in 1960 in Lawrence, Massachusetts, with the stated goal of building first-rate organs. In most instances that meant building organs with tracker action, a clear break with tradition at that time. Also, wherever possible, a free-standing hardwood case was used and material and workmanship have always been the best possible, far exceeding customary standards. The organ for Unity Church in St. Paul, MN was one of the earliest three-manual tracker organ made in America in modern times. Fritz became one of the leading figures of the organ revival movement that influenced the American organ building scene during the second half of the 20th century.
The workshop was moved to larger quarters in Andover in 1965. In 1970, the firm purchased the historic old schoolhouse in Georgetown, to which a large setup room was added a couple of years later. This pleasant environment helps us to build organs in a relaxed but focused way.  More than a dozen organ builders, including the principals of some of Americas other artistically leading firms, have received their training here. The present staff members have an average of over twenty years of experience.
Fritz also participated actively in professional organizations and was President of the International Society of Organ Builders (ISO) from 2000 to 2006.
Fritz retired in January 2015 passing the reins to Didier Grassin, a colleague and friend he had known for many years. Today we look back proudly onto an opus list of over 160 organs in all parts of the United States, as well as Japan and Iceland. We look forward to a bright future of building ever more refined organs.
---
Didier Grassin joined the Noack Organ Co. in 2011 with more than 25 years of experience in organbuilding. Trained in a variety of European workshops, he came to head the drawing office at Mander Organs, UK. From 1996, he spent several years as freelance designer, working for many major European and American firms before joining Casavant Frères as Director of the Tracker Department. His designs can be seen in England, France, Japan, Malaysia, New Zealand, China, Canada and the United States. He has served on the Editorial Boards of the International Society of Organbuilders (ISO) and the Institute of British Organbuilding (IBO). He was Vice-President of the ISO from 2010 to 2014 and was elected President at the 2016 London Congress. He holds a Master of Science (M.Sc.) in Acoustics from Southampton University, UK and a Diplôme d'Ingénieur from Université de Compiègne, France. Didier became President of the Noack Organ Co. at Fritz's retirement in January 2015.
Eric Kenney attended Berkelee College of Music before joining our firm in 1976. His broad organ shop management experience (plus two years production supervisor at Falconi Pianos) is a tremendous asset.
Dean Smith studied sculpture at Mass. College for Art and Design (BFA) and has been our consummate wood artist (casework, carving, wood pipes) since 2000.
David Rooney (BM organ perf., Westminster) since 2001 has become an all-round organbuilder from pipemaking to tonal finishing. He is in charge of our extensive service business. David is also a professional organist.
Aaron Tellers (BS in bus. adm. Gannon U) is the fifth generation member of his distinguished Erie, PA, organ building family. With the NOC since 2007, he excels in building any complex organ parts and elegant wiring.
Mary Beth Digenova accompanied various choirs before getting her BS (Mech. Eng. and Music) from MIT. After a brief stint in aerospace, she was happy to mix music and technology and is now involved in the technical design of our instruments and their voicing.
---
The Noack Organ Company, Inc., is a member firm of the the International Society of Organ Builders [ISO].